Listen: Spotify | Apple | All other platforms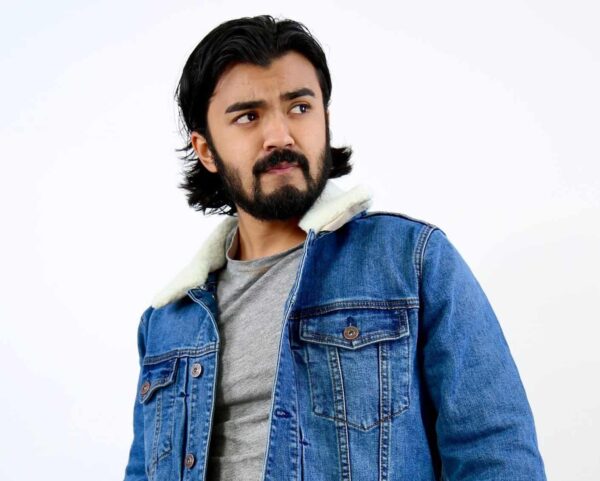 Neel first discovered his love for comedy as a 14 year old dude in high school.
He spent his weekends improvising in acting workshops and making people laugh.
And clearly… his hard work has paid off 😎
Neel won "Australia's funniest teenager" without even trying, and was the lead in his school musical because he stole the damn spotlight.
In contrast, terror gripped me whenever I was on stage as a teenager.
Racing heart, sweaty palms, my face melting off into a puddle of goo at my feet.
It was a wonderful experience 😑
But Neel? He knocked it out of the park (yes that was a sports reference even thought I'm not remotely sporty…)
Fast-forward 15 years and Neel has amassed over 1.2 million TikTok legions and 600k YouTube fans.
When we were 20 years old, 'figuring out life' (I've since given up on that quest 😅), I remember cruising down the streets of Melbourne with him.
Someone interrupted us to grab a photo with Neel (not with me 😭)
My inner monologue played out: "Um……. So I know a famous person?? I feel like I'm cool now by association."
Quit doing yoga. Express your rage and have earth-shattering orgasms instead 👇
Neel Kolhatkar's comedy shows have dominated the comedy scene.
His daring humour and rebellious take on social norms are a swift smack in the face (one that leaves you craving more).
Your grandma would probably gasp in horror or stare at you blankly if you showed her one of his videos.
Yet, hidden within Neel's satirical comedy is a fresh reflection on modern life.
Especially for those of us millennials.
Neel Kolhatkar's comedy shows have consistently sold out at Melbourne Comedy Festival.
Neel has also partnered up with big names in comedy to innovate and keep his edge sharp.
And it has served him well.
For many, comedy is a solo profession.
But for Neel?
His proof is in the pudding — collaboration.
And it's proven by the huge success he's had over the last ten years.
You should know that Neel's comedy isn't for everyone — especially the easily offended.
Once, I showed one of Neel's videos at a family dinner and it was not received well by my strict, religious family.
All my relatives were cringing while I laughed hysterically, tears falling from my eyes 😂
You can't deny that Neel Kolhatkar's comedy shows (and his online content) is hilarious, fresh and smart.
Even if it pisses you off, offends you, or you don't really 'get it'.
Do yourself a favour and go and watch a few of Neel's videos.
You won't be disappointed.
Or if you are…. You can have your money back 😉
In this episode, Neel shares how dropping out of his economics degree turned into a 10+ year successful comedy enterprise.
Neel now runs Comedy Untamed — a wild comedy show that tours around Australia.
He also co-hosts a successful podcast called Sex Cells.
Neel's secret? Be consistent and always strive to do better.
Show Notes – You'll Discover
How Neel comes up with fresh content ideas every day (hint: he has a sexy but practical template)
Neel's time management tools — which includes the occasional sleep-in because after all, he's a human being and not a robot like the rest of us… 🤖
How Neel has built a solid community through social media with fans all around the world.
How Neel adapted his business strategy after the virus-that-shall-not-be-named caused lockdowns all around the world
Neel's expert advice to business owners and content creators… I mean "media creators" (Neel hates the word 'content', only because it's just a *tad* overused 😂)
Neel's predictions about the media industry for the next 3-5 years. We discuss the rampant over-production of social media content (despite Neel being a main content contributor…)
What fascinates Neel about relationship psychology. It inspired him to team up with a relationship expert and start a podcast called "Sex Cells" 🍆🍑
How to balance having a business vs. artist mindset and why you need both to succeed
And finally… why comedians are the real heros of life
Connect with Neel:
Links From This Episode
There are affiliate links throughout this website which I may earn commissions on. These links help to keep the Sex, Money & Rage podcast alive 🔥 Thank you for your support! 🤗
As an Amazon Associate I earn from qualifying purchases.
---
Ellie Goode — Host of the Provocative "Sex, Money & Rage" Podcast, Nervous System Junkie, and Plant Psychonaut 🌿
I created Sex, Money & Rage to talk about everything that's taboo. BDSM. Plant medicine. Healthy Rage. Kink. Emotions. Boundaries. Money issues. Less thinking, more feeling. How to get into your body and silence your overactive mind.
Sex, Money & Rage provides straight-up, powerful nervous system tools to help you dominate life's toughest moments.
All podcast episodes are located here.
---
Do you have 30 seconds to leave a 5-star rating on Spotify / Apple? 🤗
I mean… who doesn't have 30 seconds, right?
Click here to leave a rating on Spotify.
Click here to leave a review on Apple.
And in case you need some extra social proof to inspire you to leave a review, check out these super nice things people have already said…
"The title sucked me in and I am glad! I just found out about this podcast and I was very impressed! The interview style is very interesting (not your usual dry interview questions) and gives a lot of insight into the way the guest thinks and held my attention the entire time."

Dumpster Muffin – USA
First-time listener but definitely not the last…Sex, Money & Rage connects listeners to impressive people with fascinating experiences to share. SMR is authentic, thought-provoking and an entertaining listen.

Jack, USA
Thank you for creating this space for people like-minded to talk openly and and feel OK to talk about these things.

Beau, Australia
DISCLAIMER: The information provided in this podcast (and in the Sex, Money & Rage website) is for informational and educational purposes only and therefore it does not constitute medical advice. Please consult a medical practitioner or healthcare provider if you're seeking medical advice, diagnoses or treatment. To the maximum extent permitted by law (including the Australian Consumer Law), we exclude all liability for any loss or damage of any kind (including consequential loss, indirect loss, loss of profit, loss of benefit, loss of opportunity or loss of reputation) whether under statute, contract, equity, tort (including negligence), indemnity or otherwise arising out of or in connection with the Site or the Content. For more information about our terms, click here.